The early equipment shown below was built by experimenters and is based on the spinning disk that was developed by Paul Gottlieb Nipkow of Lauenburg, Germany in 1884. A copy of Nipkow's 1884 patent is here. Some exceptions are the Charles Francis Jenkins unit at the top right and the Hollis Semple Baird unit at the bottom left. In the "camera" for these TVs a very bright light went through holes in a spinning disk, reflected off an object, and went into a selenium cell that converted the light to an electrical signal. The electrical signal was broadcast to the receiver. In the "display" the electrical signal controlled the brightness of a light behind a spinning disk. The viewer saw a very small low resolution image at the receiver. The spiral holes in the spinning disk are the mechanical equavalent to the raster that we see in a CRT television.
By the end of the 1930's mechanical TVs had been replaced by electronic TVs.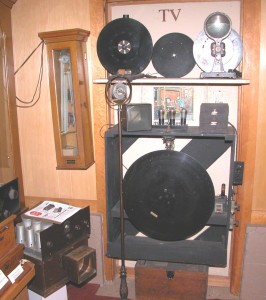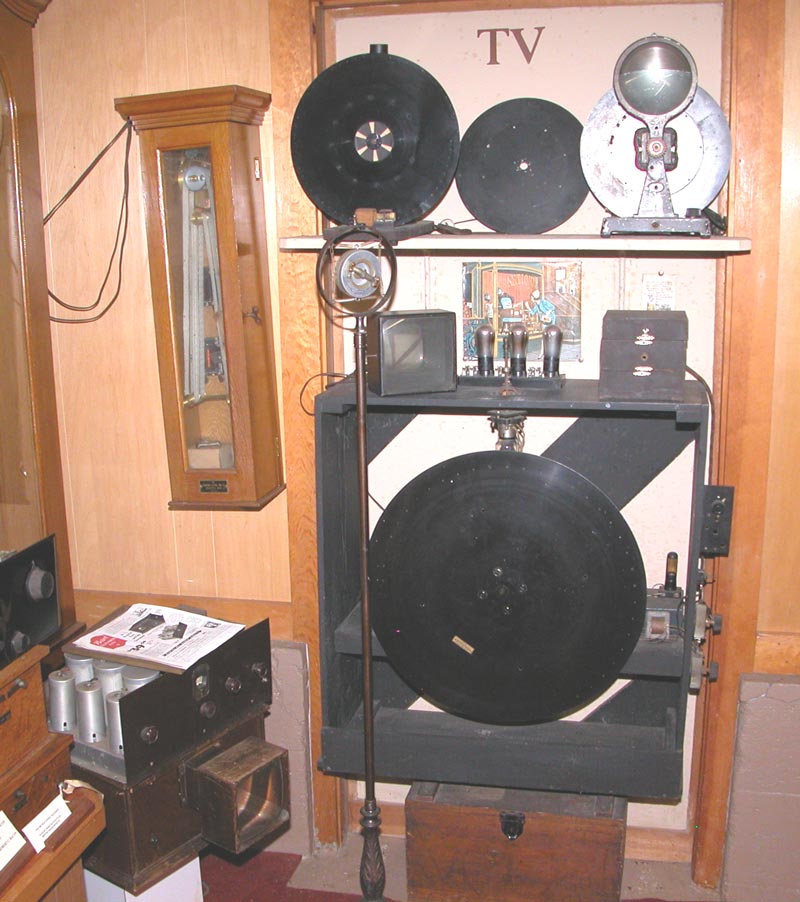 The American inventor Hollis Semple Baird (no relation to the British inventor John Logie Baird) was the chief engineer at the Shortwave Television and Radio Corporation, 70 Brookline Ave., Boston, MA. The company sold parts, kits, and complete shortwave and television receivers in the 1930s. The company also broadcast 60 line, 20 frame/second TV images at 2.850 MHz and 2.950 MHz from stations W1XAU, W1XAV, and W1XG. The company published a very detailed booklet "The Romance and Reality of Television that includes schematics and operating instructions for the units in the advertisement below. A copy of the booklet is here. On February 5th, 1930 the company broadcast the first synchronized voice (WEEI) and video (W1XAV).

A model 25 Universal Shortwave Receiver (top) and a model 26 Television Receiver (bottom). The Synchronizing Amplifier that controls the motor in the display is not in the collection.